FEATURE ARTICLE: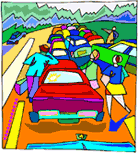 Tom Hanks' "Power of Four" solution

More good stuff:
Who is Marion Owen?

FAQs about PlanTea
Search Marion's articles, tips and recipes

Why grow organic?

News and press releases

Read love letters

How to link to this site

Need a speaker?

How to contact Marion

Visiting Alaska?
Come to Kodiak Island!

Go to home page


Marion's UpBeet Gardener
Newsletter has been
replaced by Marion's blog
which you can find at:
Marion Owen Lagniappe



Marion Owen
(Click to Listen)

GREETINGS from Kodiak, Alaska!
Thanks to you, what began in 1996 as an online hub for PlanTea quickly evolved into a global community -- from my newsletter which connects readers in 70 countries, to articles about organic gardening and healthy recipes for your family. To listen to my personal, Alaska greeting, press the PLAY arrow at left. Further to the left is where you'll find the feature article, which I change periodically. And hey, since we could all use an uplifting boost now and then, you might enjoy reading the latest edition of my newsletter. Cheers and love to you,

Below are some links to Lagniappe - A new blog by Marion Owen
Healthy Recipes - Healthy Cooking
Organic Gardening Tips - Cool Climate Gardening
Alaska Nature Photography - Alaska Photography Tips
Kodiak Island - Kodiak, Alaska
---
More feature articles by Marion Owen:
Dust off your waffle iron!
For pennies you get a million dollars worth of nutrition and health.
Excerpt: I love waffles, but I don't like how I feel after eating them. Then I ate a waffle that changed my life! [For the whole article, click here.]
While visiting friends in Hawaii they treated my husband and I to homemade Belgian-style waffles. They were light, fluffy and really tasty. "They're made from soybean and rolled oats," Carrie explained, smiling.
Carrie handed me a tattered copy of "Oats, Peas, Beans and Barley Cookbook." As I flipped through the pages, timed rolled back to the mid 1970s when I made a lot of dishes with lentils, rice, soy and beans. "That's hippie food!" my Mom used to say.
Today, we know better. These aren't just food for hippies because the more plant-based foods we consume, the better.
Back in Alaska, I bought a used copy of the cookbook for $2.00. The waffle recipes in the book call for simple ingredients like pinto beans, garbanzo beans or soybeans, rolled oats, lentils, millet, rice, cashews and buckwheat. No eggs, milk or baking powder. Wheat-free, too.
For pennies you get a million dollars worth of nutrition and health. "One soy-oat waffle has protein equal in quantity and quality to that in a serving of steak," says author Edyth Young Cottrel.
---
Can one starfish make a difference?
163 things you can compost, but who's counting...
Excerpt: A young boy and his father were walking along a beach, when suddenly they came upon thousands of starfish left stranded on the sand by the receding tide. The young boy leaned over, picked up a starfish and tossed it, like a Frisbee, back into the ocean. Then he picked up another one, and carried it to the water's edge. [Read the whole article by clicking here.]
"Son, what are you doing? You can't possibly save them all."

"I guess not. But these uns'll make it."

The youngster believed that even when the situation seemed hopeless, he could do his part. Composting is like that, too.
Every year, tons of organic materials are thrown away, needlessly filling up landfills. By composting these materials, you can lengthen the life of your local landfill. Like tossing a starfish back into the ocean, you can make a difference by composting.
What's YOUR weather like? Scroll down to the bottom and compare your weather with mine in Kodiak, Alaska!

What people are saying...
A lovely company. Plants seem to LOVE PlanTea!-- Edward W., Weatherford, Oklahoma
I use PlanTea on all my seedlings, and the soil cuber saves you from
fooling around with pots and tearing up roots. I love it! --Gary Mynatt, Henderson, NV
Your newsletter has changed my life. I look foward to them.--Linda Fink
PlanTea is is a wonderful product. Thank you for this product that gives me peace in caring for the earth, our pets and the neighborhood children.--Janet Fried, St. Paul, Minn.
Hi, I came across your website searching for tips on harvesting rhubarb. What a joy. By far the best website I've seen for a long time. --Steve Johnson, UK
I love your web site! There is just a ton of information there. I Googled for how to plant rhubarb crowns and just kept switching to other pages on your site. Thanks so much for the information. --Sincerely, Nancy Allen
OH MY GOSH! Thank you SO much for PlanTea! We have been using it on our houseplants and the results are AWESOME! They all are SO much more of avivid green and alive looking. We get compliments all the time. -- Steve Weronski
Thank you so much for the quick shipment and the personal touch! -- Regards, Brenda JonesThanks so much for my order. It was lovely! I probably got as much enjoyment opening your parcel as the plants will enjoy the tea! -- Jeannie Olson, Alberta
I am so enjoying your PlanTea and am seeing spectacular results. Thank you so much for your help and also for the great newsletter. It is really fun reading! -- M. Moon, NY
This is just the kind of information I was looking for. Thank you for being there for gardeners who love what they are doing but don't know the best way to raise their plants. -- V. Obey
I just discovered your PlanTea site and blog yesterday and am enjoying them very much. Thank you again for your informative site and the POSITIVE upbeat emphasis. -- Patsy King
Read our privacy and security policy.
---
---
We proudly associate with the following organizations:

© 1996-2007 PlanTea, Inc., PO Box 1980, Kodiak, AK 99615 USA http://www.plantea.com
Email: marion@plantea.com (To contact the Fearless Weeder and Webmother)
Toll Free: 1-800-253-6331 (U.S. and Canada); 907-486-2500 (Everywhere else)
Our Guarantee and Privacy Act Statement: We bet that you and your plants will be completely satisfied with your purchase. If not, we'll give you your money back, no questions asked. We also promise to not give out your email address and other contact information. So relax and enjoy life.
Let's compare weather! Compare YOUR weather with what I'm living with in Kodiak, Alaska!