I love waffles, but I don't like how I feel after eating them. Then I ate a waffle that changed my life!
While visiting friends in Hawaii they treated my husband and I to homemade Belgian-style waffles. They were light, fluffy and really tasty. "They're made from soybean and rolled oats," Carrie explained, smiling.
Carrie handed me a tattered copy of "Oats, Peas, Beans and Barley Cookbook." As I flipped through the pages, timed rolled back to the mid 1970s when I made a lot of dishes with lentils, rice, soy and beans. "That's hippie food!" my Mom used to say.
Today, we know better. These aren't just food for hippies because the more plant-based foods we consume, the better.
Back in Alaska, I bought a used copy of the cookbook for $2.00. The waffle recipes in the book call for simple ingredients like pinto beans, garbanzo beans or soybeans, rolled oats, lentils, millet, rice, cashews and buckwheat. No eggs, milk or baking powder. Wheat-free, too.
For pennies you get a million dollars worth of nutrition and health. "One soy-oat waffle has protein equal in quantity and quality to that in a serving of steak," says author Edyth Young Cottrel.
Since my first experiment with the original recipe, I've found it to be quite forgiving. You can add wheat germ, ground flax seeds, sesame seeds and so on. Below is the recipe... when I first posted it in my UpBeet Gardener newsletter, it generated the largest response from anything else I've written!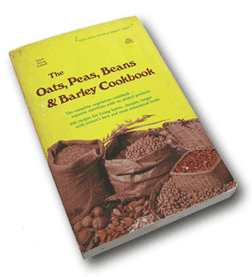 PINTO BEAN-OAT WAFFLES
These just might be the best waffles you've ever eaten...
2 1/4 cups water
1 1/2 cups rolled oats
1 cup soaked pinto beans (approximately 1/2 cup dry)
1 tablespoon oil
1 tablespoon sugar (optional)
1/2 teaspoon salt
Soak beans several hours or overnight. Drain. Combine and blend all ingredients in a food processor or blender until light and foamy, about 30 seconds. [TIP: if you don't have room for all the water, then mix the batter with half the water and add the other half to your bowl of batter.]
Let stand while waffle iron is heating. The batter thickens on standing. Grease waffle iron (we like the Waring Pro waffle iron, shown here) with a cooking spray or high-quality solid shortening. Bake in hot waffle iron for a full 8 minutes. (Very important!).
Top with fruit and yogurt, bananas and peanut butter, stewed apples, rhubarb sauce, or creamed broccoli and chicken or smoked salmon (my favorite) . Makes 3 to 4 waffles. TIP: Soak extra beans, measure and freeze them for later. The waffles can be made and frozen, too. Just pop them in the microwave or toaster oven.
Thanks for visiting! You can find more fun recipes here. Cheers to you!