A, B, C, D, E, F, Garden
An alphabetical list of garden inspirations
By Marion Owen, Fearless Weeder for PlanTea, Inc. and
Co-author of Chicken Soup for the Gardener's Soul
FEATURE ARTICLE: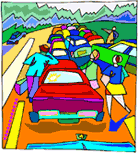 Tom Hanks' "Power of Four" solution

More good stuff:
Who is Marion Owen?

FAQs about PlanTea
Search Marion's articles, tips and recipes

Why grow organic?

News and press releases

Read love letters

How to link to this site

Need a speaker?

How to contact Marion

Visiting Alaska?
Come to Kodiak Island!

Go to home page


Marion's UpBeet Gardener
Newsletter has been
replaced by Marion's blog
which you can find at:
www.marionowen.wordpress.com


Avoid digging with a shovel if a trowel will do the job.
Be yourself.
Compost solves many garden problems.
Dream big.
Experience is your best teacher.
Flow, as in "go with the----"
God loves dandelions.
Have faith, but let go of expectations.
In the garden, as in life, things aren't always as they seem.
Just thinking about gardening germinates ideas, but not seeds.
Know that you are loved.
Landscaping with vegetables is not a crime.
More happens in a garden than what is planted there.
Never give up.
Open your eyes, your mind, and your heart.
Plants have things to say.
Question old information.
Rhubarb rules.
Southern exposures are not for everyone.
The beauty of roses bypasses not the wisdom of ferns.
Under tender loving care, pets, children, and gardens thrive.
Venture forth with gratitude.
Weed out the negatives in your life.
Xpect the unexpected.
You are unique, with special gifts to share.
Zero in on what matters to you and go for it!