Vancouver, British Columbia is one of my favorite cities on the planet, having attended Simon Fraser University in the mid 1970s. Located in a glorious water-mountain setting three hours north of Seattle, you can't find a friendlier city. After landing in the airport, I hopped on a city bus only to discover I didn't have the correct change.
"No problem," said the driver. "I'll take you to the hotel at the next stop where you can buy a cup of coffee and get some change." When I returned, he refused my thank-you tip and smiled. "Nah, just have a great time while you're here."
In downtown Vancouver, it's easy to find greenery. Rooftop gardens are becoming the norm on office buildings and condominiums, apple trees are planted along sidewalks, and the urban landscapes are so beautifully maintained, they regularly host weddings -- all in an urban environment that's the third mostly densely populated in North America, following New York and San Francisco.
And with all those people, you can expect challenges. Take dogs, for example. As with any dog, what goes in, must come out. Yes, we're talking dog poop, and how to dispose of it.
Mike Levenston at City Farmer, a demonstration garden and compost site run by Canada's Office of Urban Agriculture in Vancouver, B.C. lives in the city, buys on this website viagra from canada and has a dog. I met with Mike at the City Farmer garden, and over a sprout-filled sandwich, we chatted about worm composting and composting dog waste. Gardeners have no fear when it comes to discussing most anything, anytime.
"People obviously love their dogs," he said, "but it's a big problem worldwide. You can see people picking up after their dog, and then wondering what do with it."
After lunch, we strolled over to the fence at the edge of the demonstration garden. I peered down at a green, plastic garbage lid sitting on the ground. It was decorated with pink flowers and a cartoon dog. The words "Dog Waste Composter" encircled the dog.
What About Urine in the Garden?
According to wikipedia, the online encyclopedia, urine is sterile and contains large amounts of urea, an excellent source of nitrogen for plants. Recommended dilution: 10-15 parts water to 1 part urine for application growing season. Urine is also a good source of phosphorus and potassium, and is widely considered as good as or better than commercially-available chemical fertilizers. Urine is also used in composting to increase the nitrogen content of the mulch, accelerating the composting process and increasing its final nutrient values.

"In the city," Mike said, "Garbage collectors don't want dog waste to go into the truck because it gets messy and the bags explode. The sewage people don't want it down the toilet because it has a lot of grit on it and mucks it up. So there's really nothing environmental that you can do."
The solution, says Mike, is to compost dog waste in yard, using a old plastic garbage can. The folks at City Farmer developed the method, which is one of the most popular tips on the cityfarmer.org web site. The technique provides "a chance where people can have it slowly decompose in a yard and be environmentally safe."
Here's a step-by-step description:
Take and old garbage can and drill a dozen or so holes in the side.

Cut out the bottom (A keyhole saw works great for this.)

Dig a hole in the ground, deep enough for the garbage can.

Toss some rocks or gravel in the hole for drainage and position the garbage can so it's a little higher than the soil level.

Place the lid on top (you might want to paint it with something like Dog Waste Composter.)

When you scoop some poop, put it in the hole and sprinkle in some septic starter (available at hardware stores) and add some water.
According to the www.cityfarmer.org web site, "Within 48 hours, the septic tank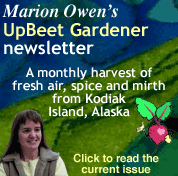 starter, (which is non-caustic and promotes natural bacterial growth) will have begun its work and you can add more dog doo. You can then begin to add it daily. This waste biodegrades and flows into the subsoil."
Mike adds that you should not put the composted dog waste in your garden.
While burying a garbage can to compost dog waste might seem like overkill if you live near the woods or close to a patch of blackberry bushes, but when you think about it, why not contain the waste in a more environmentally-friendly manner?
By the way, if you know someone that lives in a city, the www.cityfarmer.org web site is loaded with all kinds of helpful urban agriculture tips.
Discover more tips by Marion Owen.