The year is 1995. Tom Hanks wins an Oscar for his leading role in Forrest Gump, a 7.2 magnitude earthquake hits Kobe, Japan and after more than 60 years' absence, wolves are returned to Yellowstone National Park. It's also the year I posted my PlanTea web site on the internet. Ancient history, I know.
But I'm not writing this to force even more trivia into your already over-stimulated brain. Rather, I'd like to share a couple magical lessons I've learned over the years, much of which started out as responses to questions and comments from readers like you.
There's Joe in Rhode Island, who would like his lawn to look more like his neighbor's. "What is the best way to go about putting in a new lawn?" he asked in an email. "What type of seed should I use, do I have to try and remove the existing grass, and when is the best time to do this?"
Or the lady I met at the Northwest Flower and Garden Show in Seattle, Washington who was afraid to water a house plant for fear of overdoing it. Meanwhile, the plants shriveled in her kitchen window.
Gardening is a metaphor for life. For example, you 'go out on a limb', 'get to the root of the problem' and 'reap what you sow'. You can also relate gardening to practically any topic.
Which leads me to something else I learned, or became aware of recently: That sometimes people can be a little frustrating. For all the 80's and 90's talk about being "goal oriented," most people either aren't willing to dream big enough, or they're not willing to start small enough. Maybe I'm being too harsh, but it seems to me that many "goal-oriented" people just sit around sighing wistfully, "If only…"
They might be sighing about the ideal job, a brand new car, the neighbor's lawn or beautiful photos in a Burpee seed catalog.

Photo by Marion Owen
I suspect the problem with the first group, the ones who aren't willing to dream big enough, is the fear of failure. These people are afraid to dream big dreams because they fear the disappointment that might follow should their grand dreams fail to come true. Why grow roses for competition? I've never grown them before, so I'll probably lose anyway.
Fear of failure can be as emotionally stifling as the Iron Curtain. Sharon Salzberg, author of "Faith: Trusting Your Own Deepest Experience" talks about determination and intention in an article that appeared in Oprah magazine. "Often we can achieve an even better result when we stumble yet are willing to start over, when we don't give up after a mistake, when something doesn't come easily but we throw ourselves into trying, when we're not afraid to appear less than perfectly polished."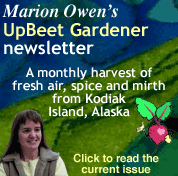 The problem with the second group, the ones who aren't willing to start small enough, is ego. The just can't understand how volunteering to show a few third graders how to grow sunflower seeds in a milk carton can be the vital first step toward a teaching or speaking career. Their big egos won't let them do the small thing that is currently within their power to do. They refuse to believe that "every great success must necessarily begin with a sad, pathetic, laughable first attempt," says Roy Williams, author and master marketer. These are the people we see sighing and waiting for their "big break."
What about you? What steps are you taking this year to move yourself toward your dream? If your dream is to write a novel, then I suggest you start writing. And when you're done, pay a local printer to run off a few hundred copies to give away to anyone who's willing to read what you've written.
If your dream is to create a line of glass flower vases for a high-end market, then sit down with a torch and start blowing glass. And when you have several dozen samples made, send them to Smith & Hawken, Gardener's Supply and Williams Sonoma.
If your dream is to produce a radio show, but you have no experience with studio production, then find someone who does. Your first attempts might sound amateurish and some people may laugh at you, but get over it. Avoid people who put your down and focus on your dream. Are you beginning to get the idea here?
George Bernard Shaw once said, "When I was a young man I observed that nine out of ten things I did were failures. I didn't want to be a failure, so I did ten time more work."
There is no better place to start other than where you are. And by golly, one thing is certain, you are where you are. All that remains is for your to get up and get started down the road that will take you to wherever it is you're going.
"By prizing heartfulness above faultlessness," says Salzberg, "we may reap [there's another garden word] more from our effort because we're more likely to be changed by it. We learn and grow and are transformed not so much by what we do but by why and how we do it."
So what are you going to do now?
[You might enjoy reading Tom Hank's Power of Four speech.]