Liberty Bailey, a horticulturist who lived in the early 1800's once said:
One plant in a tin can may be a more helpful and inspiring garden to some than a whole acre of lawn and flowers.
Such is a definition of a garden...
The word garden originates from the old German term "gart" which means 'enclosure.' However, if you look the word up in Henry Beard's and Roy McKie's book called, "Gardening: A dictionary for Weedpullers, Slugcrushers and Backyard Botanists," you'll find a Car Talk kind of definition:
"A garden is one of a vast number of free outdoor restaurants operated by charity-minded amateurs in an effort to provide healthful, balanced meals for insects, birds and animals."
In Japan, a garden might be the size of a casserole dish, while to the ancient Chinese, a garden symbolized a way of life, as illustrated in this proverb. "If you would be happy for a week, take a wife; if you would be happy for a month, kill your pig; but if you would be happy all your life, plant a garden."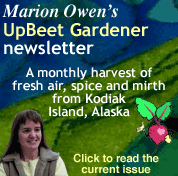 Finally, here's a description provided by Debbie Knitz, the pro-skier turned pro-gardener that I met at a Garden Writer's conference in New York. "A garden can be a container, a garden can be a yard, a garden can be any green space that is filled with flowers and energy."
I asked Debbie why being around green things gave her so much pleasure. "I consider it one of my spiritual connections," she said. "My mother's always giving me a tough time about not attending church on Sunday's, but that's the only day I have to play in my garden.
"One day we were walking around my garden and my mom said, 'You know, we really should be in church today.' And I said, 'You're in my church. This is my temple. Do you think I can create this alone?'"

Keep your hands in the dirt, and your dreams on a star. -- Marion Owen