FEATURE ARTICLE: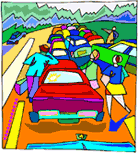 Tom Hanks' "Power of Four" solution

More good stuff:
Who is Marion Owen?

FAQs about PlanTea
Search Marion's articles, tips and recipes

Why grow organic?

News and press releases

Read love letters

How to link to this site

Need a speaker?

How to contact Marion

Visiting Alaska?
Come to Kodiak Island!

Go to home page


Marion's UpBeet Gardener
Newsletter has been
replaced by Marion's blog
which you can find at:
www.marionowen.wordpress.com

Back in the mid-1980's, Susanne Zingler of Germany became a little surprised when her new potted plant hissed and squeaked after she watered it. She thought it was just air escaping dry soil.
A week later she watered the plant again, only this time, it not only hissed, but the soil began to squirm. Panicked, she called the local florist, who came right over. One look at the plant and he called the Cologne Zoo. The Wildlife experts removed a large female tarantula and her nest of 50 little spiders!
Do YOU have a garden goof, or know of someone else's goof? If so, email the photo and a description so I can share it with others.

Happy weeding!