FEATURE ARTICLE: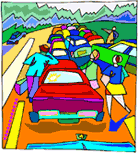 Tom Hanks' "Power of Four" solution

More good stuff:
Who is Marion Owen?

FAQs about PlanTea
Search Marion's articles, tips and recipes

Why grow organic?

News and press releases

Read love letters

How to link to this site

Need a speaker?

How to contact Marion

Visiting Alaska?
Come to Kodiak Island!

Go to home page


Marion's UpBeet Gardener
Newsletter has been
replaced by Marion's blog
which you can find at:
www.marionowen.wordpress.com

Dear gardeners, moms, politicians and neighbors,
The facts are sobering. According to the Associated Press, one in three US children born in 2000 will be a diabetic. The Center for Disease Control (CDC) warns that at this rate, by 2025, the number of people with diabetes in the world will go up from 140 million to 300 million.
The CDC also reports that, more than 18 million Americans have diabetes. Now the 6th leading cause of death in America, diabetes is responsible for over 200,000 deaths each year. The number of US adults with diagnosed diabetes has increased 61 percent since 1991 and is projected to more than double by 2050. That's why it's so important to educate the public about diabetes and focus on preventing it from developing in the first place.
In this article we'll learn how gardening, diet and exercise can be solutions to the problem. First, you may be wondering...
What is diabetes and are you at risk?
People with diabetes have a shortage of insulin or a decreased ability to use insulin, a hormone that allows glucose (sugar) to enter cells and be converted to energy. When diabetes is not controlled, glucose and fats remain in the blood and, over time, damage vital organs. Diabetes can cause heart disease, stroke, blindness, kidney failure, pregnancy complications, lower-extremity amputations, and deaths related to flu and pneumonia. Particularly at risk for these complications are the 5.2 million Americans who are unaware that they have diabetes.
Helpful links:
The two types of diabetes
Type 1 most often appears during childhood or adolescence. Type 2 diabetes, which is linked to obesity and physical inactivity, accounts for about 90 percent of diabetes cases and most often appears among people older than 40. However, it is no longer considered an adult-only disease. Type 2 is now being found at younger ages and is even being diagnosed among children and teens.
"New evidence shows that one in three Americans born in 2000 will develop diabetes sometime during their lifetime. Together we can and must do more to prevent and control this growing epidemic of diabetes."
--Julie Louise Gerberding, MD, MPH, Director, CDC, and Administrator, ATSDR

Diabetes has its greatest effects on the elderly, women, and certain racial and ethnic groups. One in five adults over age 65 has diabetes. African American, Hispanic, American Indian, and Alaska Native adults are two to three times more likely than white adults to have diabetes.
Can you have diabetes, sort of?
Yes, in addition to the millions of Americans with diabetes, an estimated 16 million US adults aged 40 to 74 have pre-diabetes. That is, their blood sugar level is elevated but is not high enough to be classified as diabetes. People with prediabetes are at high risk for developing diabetes.
Gardening can help in many ways
How does gardening tie in? First of all, gardening and yard work is an excellent form of exercise, building strength and muscle mass. As a weight-bearing exercise, gardening not only burns calories, it is good for the bones, too. Listen up ladies, we have another tool against osteoporosis.
Yes, studies show that exercise and diet can dramatically reduce the development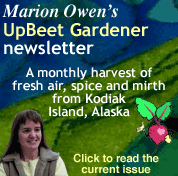 of type 2 diabetes in those at risk for the disease. As for people who have the disease, "It was once thought that people with diabetes could not withstand vigorous physical exercise. This is no longer believed to be true," says Stanley Gershoff, Ph.D. and author of The Tufts University Guide to Total Nutrition. "Indeed, exercise ranks as one of the most effective ways of normalizing high blood sugar levels."
To properly deal with vigorous exercise, says Gershoff, is to carefully time exercise, meals and insulin doses, or for less vigorous exercise, such as gardening and for those with diabetes who are not on insulin, regular exercise does not have to be timed as carefully.
How healthy is your food?
Do you know what's really IN your food?
As to food and diet, many experts blame the increased love of fast foods for the rise in obesity and diabetes. But we all have choices. You don't need to be a rocket scientist to know that the fewer processed foods we consume, the healthier our diet will be.
"You can't buy soil quality in a bag any more than you can buy good nutrition in a pill. -- Charles Benbrook, Ph.D.

Fresh foods, such as fruits and vegetables, are better for you than canned and processed ones. My neighbor tells me that the closer you eat to the source (where food is actually grown), the healthier the food. She's right. You can't argue the fact that apples, berries, onions and lettuce grown or harvested in your own neighborhood are nutritionally superior than foodstuffs that traveled 1,000 miles to get to your table. One other important fact: According to the US Department of Agriculture's National Nutrient Database, nutrients in conventionally-grown vegetables and fruits are declining.

Now the amazing clincher: You can grow more of your own food and you and your family will be healthier for it. (In addition to enjoying better food, there are many reasons to grow your own, including saving money!). Remember, healthy food begins with healthy soil. Learn what grows well in your area. Incorporate organic gardening methods. Learn about compost, weeding without chemicals, soil pH, and the best ways to use manure and kelp in the garden.
Here in Kodiak, Alaska, we have several nurseries and garden centers. One day, I stopped by to chat with one of the owners. She told me she spends a lot of time talking with her customers about dirt. "My biggest challenge is soil education. To help people succeed in gardening, they need to understand what makes healthy soil."
And healthy soil means healthy plants, which means a healthier diet. Yes, you can do it!
NOTE: This article is not meant to be the end-all about diabetes. For more information, please conduct further research and contact your health provider. Thank you.