The other day, while standing in line at the post office, I overheard a guy say that he was feeding his plants gelatin and it seemed to perk them up. Was this some kind of urban myth? As soon as I got home, I flipped through my reference books.
At first blush it may seem like a lot of hooey, but gelatin contains nitrogen, an essential element for plant growth, especially for lush, rich foliage, or leaves. A nitrogen deficiency is indicated by yellowish or pale leaf tones.
The nitrogen comes from a source you might not be aware of.
Until now.
According to the book, "On Food and Cooking, the Science and Lore of the Kitchen" [a great book, by the way], most manufactured gelatin in the United States and Europe comes from pigskin, cattle skins and bones. Lovely, eh?
Author Harold McGee also says that while it's widely believed that gelatin strengthen nails and hair, there is no good evidence that this is true.
Because the quantity and cost involved though, gelatin is probably more useful for houseplants, container gardens and window boxes than for large, outdoor garden areas. (Can't you just see the lawn jiggling as you mow it?)
While there are no official guidelines, a safe dosage for most houseplants is one small envelope of gelatin (unflavored and unsweetened, please) dissolved in two quarts of water. Use the mixture to water the plants once every three weeks during the season of active growth, which generally means not during the winter months.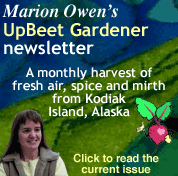 It's amazing what you can learn while standing in line!