FEATURE ARTICLE: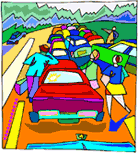 Tom Hanks' "Power of Four" solution

More good stuff:
Who is Marion Owen?

FAQs about PlanTea
Search Marion's articles, tips and recipes

Why grow organic?

News and press releases

Read love letters

How to link to this site

Need a speaker?

How to contact Marion

Visiting Alaska?
Come to Kodiak Island!

Go to home page


Marion's UpBeet Gardener
Newsletter has been
replaced by Marion's blog
which you can find at:
www.marionowen.wordpress.com

MANY TIMES AFTER SCHOOL, my brothers, sister and I returned home to find the dining room table covered with construction paper, pots of tempera paint, glue, scissors, and curly noodles. For us it was child's play; to Mom it was real art. She considered our cryptic drawings among her most treasured possessions.
Now we're all grown up and the value of simple, handmade gifts takes on a larger meaning. For example, giving is supposed to make you feel good, right? But what if in the motions of buying a gift and wrapping a present you feel you've lost something? Or that you give but grudgingly or out of duty? Does it mean you've lost the loving spirit expected of giving?
Not necessarily. But it might be a timely signal to examine the feeling behind the giving. By doing so, you might discover how simpler is better, often bringing the most joy--for the giver as well as the receiver. After sharing some insights on giving, I'll follow with a list of gift ideas that will help rejuvinate your giving spirit. Before you know it, the feelings will carry over for the rest of the year.
Could it be so simple? Absolutely!
Simple gifts come from the heart
Nestled in parsley, this giant M&M was created
with a little paint and an oval rock. Flat rocks
make great canvases for garden signs. (Marion Owen photo)
- - - - - - - - - - - - - - - - - - - -
"All that counts in life is intention."--Andrea Bocelli
- - - - - - - - - - - - - - - - - - - -

The Roman philosopher Seneca reminds us that material things aren't what bring happiness. "The spirit in which a thing is given determines that in which the debt is acknowledged." he said. "It's the intention, not the face-value of the gift, that's weighed."Each of us is capable of giving every day in small--even invisible--ways. How can you do this? "The gifts of caring, attention, affection, appreciation, and love are some of the most precious gifts you can give, and they don't cost you anything," says Deepak Chopra. "Next time you visit someone, silently wish them prosperity, happiness and joy, or send them a blessing. As long as you are giving, you are receiving."
Give thoughts of cheer or words of comfort, sympathy, and hope. If a friend could use a helping hand or listening ear, give your attention. Try to listen more. Give advice when asked or offer your forgiveness.
Simple gifts for gardeners, cooks and everyone in between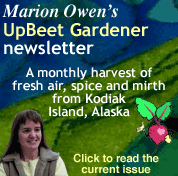 What follows are ways to help lighten up the act of giving. That is, giving with your heart and not just with your head. Take a look and you'll see what I mean. Many of the gifts I've listed here don't cost a dime and they don't require much wrapping.

A handy tool bucket
Convert a 5-gallon bucket into a tool holder by attaching a tool pouch to the outside. Use a painter's apron, or make a tool pouch from old blue jeans, coveralls, or upholstery fabric. Pad the lid to make a nice cushy seat to help a gardener take a load off her feet. Customize the bucket with a painted design or name. Throw a tool in the bucket for inspiration.

The gift of health
Make a batch of coupons for a friend to be redeemed for walking, hiking, playing tennis, or biking together. Give a gift certificate to a natural food store or a gym. How about a massage or acupressure session?



Gift coupons and promissory notes
Coupons that offer a special skill or service you can provide are always welcome. Think of themes that fit the personality of the person receiving your present. Here are a few ideas, limited only by your imagination:

Offer to housesit, babysit, plantsit or petsit Promise a load of topsoil, compost, or mulch for the garden Give two hours of mending or sewing Offer to mow the lawn, paint a room, fix a door, or weed the garden Give two hours of computer 'troubleshooting' time Offer to shovel snow, prune roses, or take someone shopping Give a golf or photography lesson Wash dishes for a week (or a month!)
Fix a car, lawn mower, or bicycle


More ideas (these aren't your traditional anniversary gifts)

Take someone who is unable to drive out for a ride to the park, beach, zoo, or public garden.

It's your turn to make dinner! Cook a meal for someone's freezer, to be used when most welcome. Label it with the contents and cooking instructions.

Give your home for a party (include cleaning up before and after) for non-homeowners or for someone who lives in close-quarters.

Set aside space in your garden for a friend who doesn't have the room.

Invite someone who's new in town over for dinner.

Donate non-perishable food items to a local food bank or collection site.

Volunteer your services at the hospital, care center, homeless shelter, or soup kitchen.



- - - - - - - - - - - - - - - - - - - -
"The true measure of a man is how he treats someone who can do him absolutely no good." --Ann Landers
- - - - - - - - - - - - - - - - - - - -


Give a vision-impaired friend or family member a book on tape, a large print book, or offer to read a book or story aloud.

Start some geraniums, house plants and other perennials from cuttings.


Create plant-able messages by pasting seed packets inside note cards.

Make an edible kitchen ornament
These ornaments decorative and practical, plus they smell great. Start by collecting "smellable edibles" such as:
Garlic bulbs Whole ginger Red and green chilies Whole cinnamon sticks Dried apple slices and apricots
Dried herbs (bay, rosemary, sage, oregano, basil, sage or thyme)
Cut a piece of wire, 8 to 12 inches long. Starting at the top, twist one end of the wire around the stems of two or three heads of garlic. Continue building the ornament verticall downward by twisting the wire around a bundle of cinnamon, and then a bundle of chilies. Continue adding materials until the ornament is 8 to 12 inches long. Use a piece of wire to add whole herbs or a bow to the middle of the ornament. For an end tassel, gather two or three stems of an herb together and wire it to the bottom. Tie a bow at with string or ribbon at the top of the bunch.


Humble (and lovely) earth-friendly wrappings

Wait! Before you cut and tape reams of wrapping paper, consider earth-friendly alternatives. Wrap gifts in scarves, bandanas, tins, reusable bags, the comics or outdated nautical charts and topo maps. Use string to tie on dried flowers and leaves. Recycle last year's holiday cards into homemade gift tags and decorations.



- - - - - - - - - - - - - - - - - - - -
In 1952, Albert Schweitzer was awarded the Nobel Prize for his teaching of "reverence for life." A theologian, musician, and missionary surgeon, Schweitzer believed that happiness was found in giving, of oneself. "The purpose of human life is to serve," he said, "and to show compassion and the will to help others."
- - - - - - - - - - - - - - - - - - - -




Doing good unto others

I think you'll agree that these two organizations are beautiful examples of service to others...President Jimmy Carter says of Heifer International, "I have long been proud of the fine work of Heifer International." Since 1944, this wonderful non-profit organization has provided livestock and training to more than 4 million families around the world. Heifer helps impoverished families feed themselves, earn income and care for their environment. You "give" by donating a llama, goat, flock of chicks or rabbits. Thanks to your gift, one more family is on the road to self-reliance.

Now in its second decade, the Seva Foundation uses your donation(s) to perform the service you select. Their "Gifts of Service" program includes the gift of sight by restoring sight to blind people, clean healthy water, and education.

After the flicker of a holiday or birthday has gone, the thoughtful, and handmade gifts will be treasured by your friends and family for years to come. Remember to give with attitude. Start by taking a few extra moments to wrap each gift with love.
Thanks for visiting,

The Prayer of St. Francis of AssisiLord, make me an instrument of Your peace,
Where there is hatred, let me sow love;
Where there is injury, pardon;
Where there is doubt, faith;
Where there is despair, hope;
And where there is darkness, light; where there is sadness, joy;
O Divine Master, grant that I may not so much seek
To be consoled, as to console;
To be understood, as to understand;
To be loved, as to love.
For it is in giving that we receive;
It is in pardoning that we are pardoned;
And it is in dying that we are born to eternal light. --St. Francis of Assisi (1182-1226)
"The Italian founder of the Franciscan order of monks, St. Francis approached religion with joyousness and a love of nature, calling all living beings his brothers and sisters." -- Dr. Wayne W. Dyer, bestselling author and inspirational speaker, from his book, Wisdom of the Ages.
~ ~ ~ ~ ~ ~ ~ ~ ~ ~ ~ ~ ~ ~ ~ ~ ~ ~