FEATURE ARTICLE: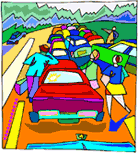 Tom Hanks' "Power of Four" solution

More good stuff:
Who is Marion Owen?

FAQs about PlanTea
Search Marion's articles, tips and recipes

Why grow organic?

News and press releases

Read love letters

How to link to this site

Need a speaker?

How to contact Marion

Visiting Alaska?
Come to Kodiak Island!

Go to home page


Marion's UpBeet Gardener
Newsletter has been
replaced by Marion's blog
which you can find at:
www.marionowen.wordpress.com

Hoping for some insights into the secret lives of indoor gardeners, I recently asked some customers and some of my seminar attendees:

"What unusual or different organic plant foods do you use on your houseplants?"
I was curious because most commercial potting soils are fairly sterile, either lacking much in the way of nutrients that plants need to stay healthy, or they become depleted fairly quickly.
That's why it's very important to feed your plants on a regular basis and to transplant them before the soil has no more to give, on an average of every 2 years.
In the way of responses, I certainly got what I asked for. People came up with ideas I'd never considered in my wildest dreams. Take a look at the following list. Maybe you'll find a solution (heh, heh) or two...
Coffee grounds
Sprinkle used coffee grounds around the base of your plants. Use a fork to stir them into the top layer of soil to add minerals and fluff. Cooled, brewed coffee (no cream, please!) also works. If you like your coffee strong, you might want to dilute it first.


Fish tank finds
If you have a fresh water aquarium, save the water when you clean the tank and use it to water your houseplants. If it has been awhile since you last cleaned out the tank, dilute the tank water first. And watch for little fish that accidentally get tossed onto the soil!


Rice rinsings
Save the water used to rinse white, sticky rice before cooking.


Vegetable liquid
After steaming vegetables in unsalted cooking water--everything from spinach and okra, to potatoes and carrots--pour the cooled liquid around your plants. Yum, yum.


Fish bones
No, we're not talking whole salmon carcasses here. Just the sharp, pin bones leftover after a meal. Just poke them into the soil and they will break down easily, adding much-needed nutrients to the soil.
Tired of bugs buzzing around?
Yellow sticky traps provide a safe method for trapping aphids, thrips, fungus gnats, whiteflies and more. They are Ideal for indoor and outdoor plants and are one of my must-have garden solutions. (Fortunately, bugs go for them, too.) You can buy them through my online catalog. A set includes nine, 3x5-inch sticky traps, 3 wire holders and complete instructions. $7.00 per set. To see how effective they are, check out this photo. (WARNING: Not for the squeamish!) They are worth every dime, believe me!
Do YOU have an unusual way to feed your houseplants? If so, email them in and I'll add 'em to the list.

Remember, houseplants appreciate a little fresh air, too. If the weather is warm enough and it's not too windy, take your plant outside for a "walk." (Mark your calendars: July 27 is "Take Your Plant for a Walk" Day). Mist it well with a spray bottle. The excess water can drip all it wants without harming floors or carpets. If you'd like to learn more about caring for your indoor plants, check out my articles, Simple Houseplant Cleaning Tips and How Houseplants Clean the Air.
Happy indoor gardening!