I place a sheet of 11 by 14-inch white mat board on the counter next to a pair of scissors, glue, and a short stack of last year's seed catalogs. Though out of date, the magazines still have a purpose. I was after their eye-popping photographs of pansies, tomatoes, purple hydrangea and zucchini.
Flipping through the pages, I clip out pictures that catch my fancy, images I think will cheer up Aunt Kaye. You see, my Aunt Kaye enjoys puttering in her garden. She loves to grow zucchini squash, which can be a tricky affair in Tacoma, Washington because the weather acts out like members of the Seven Dwarfs: Grumpy, Sneezy and Happy.
But Aunt Kaye isn't growing zucchini right now. She may be thinking about it, but no one knows what is going through her mind these days. Aunt Kaye is fighting for her life in a hospital bed in Palm Desert, California after slipping into a coma, the latest in a series of complications following knee surgery three years ago.
Yellow sweet corn, red tomatoes on the vine, a bunch of orange carrots, a stone path winds through an herb garden--I arrange the pictures on the board, leaving a white space in the middle. I secure the loose corners with dabs of glue and move it aside to dry.
I pick up a Sharpie pen, and hover over the poster. What should I write in the blank spot? Simplicity wins out because the words "In the garden" come to mind. So be it. I write them in the area between the hydrangeas and the yellow marigolds.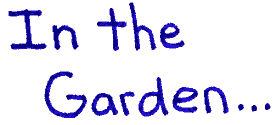 Distanced by two thousand miles, I don't know what else to do for Kaye except pray and think of her, not hooked up to machines via tubes and breathing devices, but smiling the way she does, her eyes squinting a little. I can see her weeding in the garden, patting the summer squash and inspecting tomatoes. Miles don't matter; thoughts are things.
I pause for a moment as self doubt rears its ugly head. I look at my homemade collage. "What am I thinking? The flowers glued on the board aren't real. They're not fragrant, soft and 3-dimensional like in a real bouquet."
Fortunately I shake away the dark clouds and replace them with the notion that the plant pictures can do their magic anyway.
Perhaps no one knows more about how plants affect people than Charles Lewis, horticulturist and author of Green Nature, Human Nature--the Meaning of Plants in Our Lives. In the chapter on horticultural therapy, he describes the power of plants in a hospital environment. "Because a plant gives beauty unstintingly and remains steadfast, day and night, it is a beacon reminding patients of the life existing beyond their pain."
Plants, I believe, can work miracles. Just being around them influences how we feel about life and ourselves. I know this in my heart, and I was even more convinced of it after reviewing some 5,000 stories for possible use in the book, Chicken Soup for the Gardener's Soul. We, the six co-authors, were charged with winnowing the number of stories down to 101 keepers. Reading the manuscripts was like riding a roller coaster: Some accounts brought us to tears, while others were so inspiring you wanted to pick up a trowel and change the world.
In addition to soliciting for stories, we also searched for already published ones, fanning out like children looking for a lost puppy in a cornfield. One story in particular eluded us past the deadline. We tried in vain to locate it.
All we knew was that it had something to do with a young veteran at a VA hospital who was injured in Vietnam and been totally paralyzed. Therapists tried to help, but the patient had simply stopped trying to improve. A nurse brought a plant into his room, which somehow sparked the beginning of his healing.
Chicken Soup for the Gardener's Soul was published in 2001 and in three days it rose to #9 on the New York Times bestseller list. But I never forgot that story about the guy in the hospital.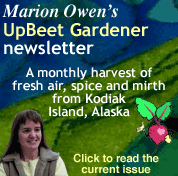 So imagine my surprise when, after learning about Kaye's declining health, I came across this story in Lewis' book. Here it is, as told by Paul Mills, editor of V.F.W. Magazine:
"One sunny day in spring, the horticultural therapist put a small glass jar half filled with peat moss beside the bed, and as the patient watched, planted five bean seeds. A few days later the seeds sprouted. Their roots were visible through the glass as they gradually extended to give life support to the tiny cotyledons working toward the earth's surface.
"By the fifth day the growth process was accelerating. The therapist moved the 'miraculous' jar to the other side of the patient's bed where he could not see it, and instructed the nurses not to turn the patient as they had been doing. The next morning, the young veteran was lying on his other side, watching his bean seeds. Turning over had been his first voluntary movement since his accident."
From that day on, the patient made steady progress and was finally discharged from the hospital.
Unlike the young veteran who filled with despair, Kaye has a zest for life like that of, well, Happy. She's the kind of person that rubs off on you like a wonderful spice.
Still, I want to do something, so today I am mailing the poster to Uncle Hal, who has practically lived in Kaye's hospital room since she took seriously ill a couple weeks ago. My hope is that when Kaye opens her eyes and sees the pictures of flowers and vegetables that she'll think of spring planting, yellow daffodils, the feeling of warm soil between her fingers, of birds chirping in her garden, and life.
[Note to readers: Kaye passed away on March 20, 2004, the first day of spring.]