FEATURE ARTICLE: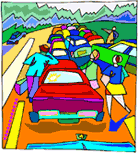 Tom Hanks' "Power of Four" solution

More good stuff:
Who is Marion Owen?

FAQs about PlanTea
Search Marion's articles, tips and recipes

Why grow organic?

News and press releases

Read love letters

How to link to this site

Need a speaker?

How to contact Marion

Visiting Alaska?
Come to Kodiak Island!

Go to home page


Marion's UpBeet Gardener
Newsletter has been
replaced by Marion's blog
which you can find at:
www.marionowen.wordpress.com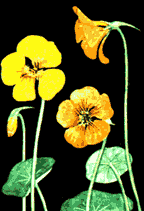 Everyone loves a good recipe, especially if it involves treating an ordinary ingredient in a whole new way. In a moment, I'll share a recipe for a pesto sauce to die for. It's made -- not with basil -- but with nasturtium leaves, which gives it a fun, zesty flavor.
Nasturtiums are easy to love because they're easy to grow. And once they start blooming, they dazzle you with saucer-shaped leaves and brilliant flowers until the first frost zaps them in the fall.
So, for a garnish or salad ingredient that combines the flavor of watercress with the hues of the rainbow, try nasturtiums. They can grace special sandwiches, dips and spreads, and bowls of greens. And if you really want to liven things up, float a few blossoms in a punch bowl.
Yessirree, nasturtiums are quite tasty--a trait that the Spanish conquistadors carried with them when they brought nasturtiums from South America to Spain in the 1500's. The flower traveled to England by the1590's, and its reputation as a culinary herb gradually spread across the continent.
Nasturtium leaves are also edible, and like the flowers, they have a peppery taste. And don't forget the flower buds, which, when pickled, can stand in for imported capers. They're called "poor man's capers" and I just happen to have a recipe right here.
Now for the pesto recipe--a creation of award-winning French chef Joel Chenet, who moved from New York to Kodiak Island, Alaska (where I live) a few years ago in search of what he calls, "the good life." Joel owns a pastry business called Mill Bay Coffee and Pastries.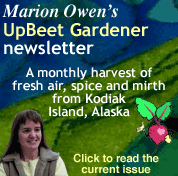 Nasturtium Pesto
(The best-o pesto--a recipe to die for)
Into a food processor or blender, put the following ingredients:
4 cups packed nasturtium leaves
3 to 5 cloves of garlic
1 and 1/2 cups olive oil
2 drops Tabasco sauce
1 cup walnuts
Process the mixture until smooth.

To store the pesto, Joel suggests freezing it in ice cube trays so it's ready whenever you need it. The pesto, he says, is excellent on top of grilled salmon, halibut, chicken or steak. Just set a pesto ice cube onto each serving and voila, instant gourmet!
Until we meet again, keep your hands in the dirt, and your dreams on a star. -- Marion Owen