FEATURE ARTICLE: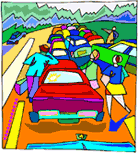 Tom Hanks' "Power of Four" solution

More good stuff:
Who is Marion Owen?

FAQs about PlanTea
Search Marion's articles, tips and recipes

Why grow organic?

News and press releases

Read love letters

How to link to this site

Need a speaker?

How to contact Marion

Visiting Alaska?
Come to Kodiak Island!

Go to home page


Marion's UpBeet Gardener
Newsletter has been
replaced by Marion's blog
which you can find at:
www.marionowen.wordpress.com

Have you ever been to a surprise party? Then you know the anticipation and excitement around pulling it off. Anticipation and excitement happens in the kitchen too, in the form of fun recipes to share with family and friends.

For example, you've heard of zucchini bread and carrot cake? They deserve high marks because they are tasty, unusual and utilize vegetables that are coming out of our ears.

Though old news now, think back to your first meeting with zucchini bread. A pleasant surprise, I bet. Well now there's potato fudge. While not entirely healthy and wholesome, it's great fun to tell people that it's made with the humble "apple of the earth."

Have fun surprising -- and fooling -- your friends and family with this recipe!

Potato Fudge

3 squares (3 oz) unsweetened chocolate
3 tablespoons butter
1/2 cup unseasoned, mashed potatoes (at room temp)
1 teaspoon vanilla
1/4 teaspoon salt
3-3/4 cups (1 pound) powdered sugar
2 teaspoons milk or soy milk
Almonds, finely chopped

Melt chocolate and butter together in a saucepan over low heat, stirring occasionally. Remove from heat and stir in mashed potatoes, vanilla, and salt. Sift powdered sugar into large bowl. Add chocolate mixture and mix well. Mixture will be slightly dry and crumbly. If necessary, add milk to make a dough that can be kneaded. Turn out on a board and knead until smooth.

Dust board with powdered sugar if necessary. Shape mixture into two rolls, about one inch in diameter. Roll in chopped almonds. Wrap in wax paper and chill. Cut into 1/2 inch thick slices. Makes 4 dozen.


And now, some potato humor . . .
An old man lived alone in southern Idaho. It was early spring, and he wanted to spade a garden plot to prepare it for planting potatoes. But it was very hard work and he just didn't have the energy.
You see, his only son, who would have helped him, was in prison.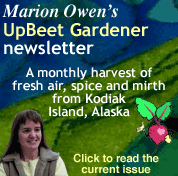 The old man wrote a letter to his son and mentioned his predicament.
A week later, he received a note back, which said, "For heaven's sake, Dad, whatever you do, don't dig up that section of the garden! That's where I buried the GUNS!"
The next morning, bright and early, a dozen police showed up and dug up the entire garden, without finding any guns.
Looking out the kitchen window, the old man thought "Now, what in the world is going on here?" Confused, he wrote another letter to his son telling him what happened, and asked him for advice.
Another week passed and his son's reply arrived in the mailbox. The old man carried the letter up to the house, sat down at the kitchen table and read, "Now plant your potatoes, Dad. It's the best I could for you under the circumstances."