FEATURE ARTICLE: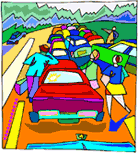 Tom Hanks' "Power of Four" solution

More good stuff:
Who is Marion Owen?

FAQs about PlanTea
Search Marion's articles, tips and recipes

Why grow organic?

News and press releases

Read love letters

How to link to this site

Need a speaker?

How to contact Marion

Visiting Alaska?
Come to Kodiak Island!

Go to home page


Marion's UpBeet Gardener
Newsletter has been
replaced by Marion's blog
which you can find at:
www.marionowen.wordpress.com

If you think the object at right looks like a toilet seat, you're right.
While it is no longer connected to the toilet (my husband said it didn't match the nautical decor in the bathroom) it still has a useful life. Look even closer and you'll see catalog clippings, postage stamps and seed packets. You have to admit a toilet seat covered with gardening clippings and paraphernalia provides a new way to absorb gardening knowledge.
Yes, garden and nursery catalogs are a welcome sight, especially during periods of dreary weather. Martha Smith, author of the wonderful book, Beds I Have Known, says "Just when winter appears interminable, and it seems not one more bleak and bitter day can be endured, the first harbinger of the gardener's spring arrives: the nursery catalogues!"
But there's a downside. Millions of catalogs are mailed out every year. That's a lot of trees harvested for the sake of selling seeds and plants. Ironic, isn't it? Recycling helps. Hauling catalogs and magazines to the recycling center is an admirable start. Before you haul them away though, give them a second look. Hidden in those pages are lots of ideas for making "crafty" treasures.
Here are 27 ideas to launch your imagination, including how to decorate a bar of soap with flowers, herbs, trellises--all clipped from pages...


Check out this origami masterpice, made by one of my Organic Gardening students. It measures 5 inches in diameter and is made of meticulously folded pyramids. It take 45 minutes to make each pyramid and there are a couple dozen of them.
Wrap small gift boxes

Cover containers and other pots for indoor plants

Customize note cards

Shred pages for packing materials

Make paper chains for Christmas tree

Help your canary learn about gardening: Line the bird cage!

Fold pages into origami animals, flowers and other shapes

Make a garden pinata

Add a garden theme to your scrapbook

Illustrate your garden journal with ideas

Create colorful invitations

House train your puppy and give garden lessons at the same time!

Make a dozen handmade post cards

Make a special book cover

For a wastebasket, cover a large, commercial-sized ice cream tub

Cover a lunch box: Let your kids help

Bookmarkers

Decorate a bar of soap: Trust me on this one: A fun gift to give your garden friends, all you have to do is take any bar of soap and sponge a layer of Mod-Podge on one of the flat sides of the soap. (Mod-Podge is a popular water-based glue found in craft stores.) Let it dry and apply another layer. Now place pictures cut out from a garden catalog on top of the soap and add a few more layers of Mod-podge. The soap will dissolve as you bathe, but the designs will remain.

More decoupage projects
+ Lampshades
+ Picture frame
+ Mirror frame
+ Lamp bases
+ Gift boxes
+ Piggy banks
+ Masks
+ Trays (see photo below)
+ Light switch plates
+ Hair barrettes

This paper mache mask was covered with vegetable pictures
clipped from garden catalogs. Note the
tomato eyes, squash lips and cauliflower forehead!
So, these are the ideas I came up with. If you have an idea for re-using catalogs, send me an email . Meanwhile, next time you box up your seed catalogs, invite a bunch or friends over and pass the scissors and glue!
Thanks for visiting!