I was standing in Seattle's SeaTac airport, elbowing with hundreds of other travelers anxious to hear flight updates over the loudspeaker. For some reason, flights to Alaska were being cancelled and re-routed My travel companion and I passed the time by swapping good book titles and talking about a universal subject that connected us in the mid-1990's: Gardening.

We were trying to fly to Kodiak Island--me to leave freeways and shopping malls behind in exchange for fresh air, green hills, and politeness--and Renee to experience the Emerald Isle for the first time.
"I just want to see what you've been talking about all these years," she emailed last spring.
I looked forward to her visit, even though it meant pulling more weeds.
My travel partner was Renee Shepherd, who founded Shepherd's Garden Seeds in 1985. Renee created all catalog copy, chose seed varieties, managed marketing, and directed the company's large trial garden where every selection was grown and evaluated.
Until Shepherd's Garden Seeds, most seed catalogs catering to U.S. gardeners offered the usual varieties of head lettuce, tomatoes, and green beans. Year after year. Safe, bland, and predictable. Then in the early 1980's, Renee hosted a dinner and soccer game at her rural Felton, California home for her garden industry friends, which happened to include some European seedsmen.
"Why doesn't anyone in the States grow specialty greens, Asian vegetables and herbs besides dill and oregano?" they asked. The question made an impression on Renee. She mortgaged her house and launched Shepherd's.
In 1997 she moved on to create Renee's Garden after White Flower Farm purchased Shepherd's. Renee is widely recognized as a pioneering innovator, ('Seedy Lady' as she sometimes refers to herself) by introducing international vegetables, flowers and herbs to home gardeners and gourmet restaurants. At barely five feet tall, she makes up for any shortcomings (hah!) by her keen business sense.
And Renee's seeds? Well, some gardeners claim the seedlings grow so well they leap right out of the ground. Renee says you just have to find good seed to start with, as you'll read about later. Her seed packet designs feature beautiful watercolors by a San Francisco artist. The wording is light, informative, and conversational. You can get a sense of Renee, the person, just by reading the sowing instructions.


Renee's Garden seed packets
In the spring of 2001, Renee and I agreed that a 3-day visit to Kodiak was long overdue for Renee. We would meet at the Garden Writers Association's annual conference in Seattle and then head to Kodiak after the conference. After spending four days in the city in the middle of summer, we looked forward to heading north.
On the morning of our departure, we rode the Airporter van to SeaTac. It was Sunday, so traffic was lighter than usual. We arrived at the airport earlier than expected.
It was downhill from there.
We boarded Flight 97 for Anchorage, a 3-1/2 hour flight from Seattle where we'd board another jet for Kodiak Island. All of us were tucked into our seats, ready to go. Moments before our scheduled departure however, the pilot announced that the baggage handlers had damaged the exterior door and we'd have to de-plane and wait for another jet to be brought around.
An hour later, we boarded Jet #2 and took off for Anchorage. No sooner did we level off at 31,000 feet than the pilot told us on and says he's having problems reading the fuel gauge.
"Was this a joke?" we wondered.
The pilot wasn't kidding. After a slow bank to the left, we headed back to Seattle. Minutes before landing however, the flight attendant announced there was a medical emergency and that after landing, we would not be allowed to get off until the EMT's had done their job.
Once on the ground, the Alaska Airlines staff scrambled to book the stranded and weary travelers (us) on different flights. Renee, a frequent flyer, remained cool as a cucumber. She took one look at my scrunched-up forehead, left for a few minutes, and returned with a cup of chocolate frozen yogurt. We finally touched down in Kodiak, albeit a few hours late. But we made it. Our luggage caught up with us the next day.

This beautiful coffee-table book is available through Amazon.com.
I never appreciated coming back to Kodiak so much as I did that day. Renee felt it, too. Stepping off the plane she said, "Wow. This is a beautiful place. I can see why you like living here."
Before we went into the house, Renee and I took a stroll around the garden, which was in peak form, thanks to my husband who manned the sprinklers during my absence. We admired the tall purple delphiniums, picked salad greens, and relaxed, soaking up the nourishment that can only be found by basking in the presence of plants.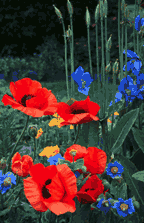 Cool weather and long growing days
help nurture Kodiak's beautiful gardens.
"I can't believe how vibrant the colors are!" Renee exclaimed over and over again. "Just look at this kale. Amazing." It's true. People visiting Alaska for the first time are awestruck by the intensity of colors and overall health of plants.
I told her it was the salt air and all that sweet coastal rain.
Leaning over a head of Romanesco broccoli that had split into unsightly nubbins--a far cry from the pyramid-shaped plant in the catalog photograph--I shook my head in bewilderment.
"I don't know why the head separated like that," I said. "Last week, it was a small, compact head with lots of growing to do."
"It's not something you necessarily did," she reassured me. "It could also be poor quality seed from the supplier."
Bingo. Seed quality was something I'd never considered before.
Renee explained that broccoli seed from one company was not the same seed from another packer, though they might be the same variety.

Renee hiking with friends in Kodiak's coastal rain forest.
During her brief visit, we hiked around the coastal trails among tall Sitka spruce trees, took a day-long boat trip to a nearby island, drank tea, sampled wine and watched eagles.
One morning we walked around to the front of the house where the 5-foot single and double red poppies bloomed by the front door.
"Can you save some of those seeds for me?" she asked, her eyes twinkling. "I'd like to grow them in our test garden and offer them in next year's selections."
The next morning I marked several plants with tags that read "Single Red" and "Double Red."
I can hardly wait to see next year's catalog.
Final note: As of October 2002, Renee has bought back Shepherd's Garden Seeds, the company she started out of her home well over a decade ago. As Renee puts it, "It's a gratifying way to put Humpty Dumpty back together again!"

P.S. If you DO come to Alaska, be sure to stop by and say hello. You can help me weed!