FEATURE ARTICLE: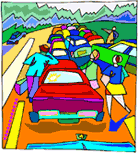 Tom Hanks' "Power of Four" solution

More good stuff:
Who is Marion Owen?

FAQs about PlanTea
Search Marion's articles, tips and recipes

Why grow organic?

News and press releases

Read love letters

How to link to this site

Need a speaker?

How to contact Marion

Visiting Alaska?
Come to Kodiak Island!

Go to home page


Marion's UpBeet Gardener
Newsletter has been
replaced by Marion's blog
which you can find at:
www.marionowen.wordpress.com


Sometimes we're inspired to do our very best, in spite of our situation. Here's such a story...

The year is 1792. The French Revolution is in full swing, "illuminating gas" is used in England for the first time, Eli Whitney is about to invent the cotton gin, and planning is underway to construct the capitol in Washington D.C.
It is December 11 of that year, in Salzburg, Austria. In a cold and dark hovel, Anna Schoiber, a poor spinster knitter, gives birth to a son. She names him Joseph. The son's father, Franz Joseph Mohr, serves in the archbishop's army and could care less for babies and domestic life. He eventually leaves Anna and Joseph to fend for themselves.

Mother and son move across town to live in a small room with Anna's mother. It is a harsh way of life, bordering on extreme poverty. To escape the hunger and cold, Joseph goes for long walks. These forays would change his life and the way we celebrate Christmas.

On one of his adventures, Joseph visits the local cathedral and meets the choir-master, Johann Hiernle. Soon they develop a warm, father-son relationship. They talk about history, art, music and the challenges of every day life.

Joseph overcomes his shyness and starts participating in church services. Hiernle recognizes Joseph's musical talent and decides that he needs and deserves a proper education.

When he is old enough to attend, Hiernle enrolls Joseph in the famous grammar school in Kremsmünster, Upper Austria. Joseph studies hard and receives honors for his work.

Joseph Mohr eventually completes his education at the archdiocesan seminary in Salzburg and is ordained as a priest in 1815 at the age of 23. His first assignment takes him to a pilgrim church in a lovely alpine village. Nestled in the mountains, the village setting is a welcome change from his childhood. Inspired, he writes poetry, dabbles in music and enjoys the outdoors.

One morning, Joseph sits down at his small wooden desk and writes a short poem called, "Stille Nacht! Heilige Nacht!" ("Silent Night! Holy Night!").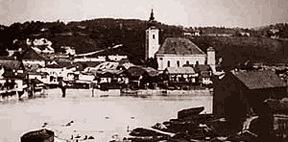 Historical photo of the St. Nicholas Church in Oberndorf, Austria,
site of the premiere performance of "Stille Nacht" in 1818.

Two years go by. Joseph loves the small village, but he becomes ill and is sent to a hospital in Salzburg. He recovers in a few weeks, and is then assigned to St. Nicholas Church in Oberndorf as an assistant pastor. It is there that Joseph meets and becomes friends with the local schoolmaster and church verger, Franz Xaver Gruber. Coincidentally, Farnz Gruber, is also the organist at St. Nicholas.

On the eve of December 24,1818, Father Joseph Mohr leaves his small room on the upper floor of the church, and takes a 20-minute walk to Arnsdorf to visit his friend, Franz Gruber. What takes place that evening changes the tenor of Christmas musical celebrations forever.

History is not clear about how the world's best-loved Christmas carol came about, or exactly why the carol was composed in the first place. One early 20th century story claims that Mohr was told the day before Christmas that the church organ was broken and could not be prepared in time for Christmas Eve. Saddened by this, he couldn't think of Christmas without music, so he came up with the idea of putting a carol together that could be sung by the choir to guitar music. He went to find Franz Gruber and propose a joint venture.

"The two of us did something for the Holy Night. I transcribed the words and Franz Gruber the melodie," wrote Rev. Mohr.
Later that night the people in the little Austrian church sang "Stille Nacht" for the first time.

Joseph Mohr served ten years in the parish at Wagrain, which is now a beautiful alpine ski resort. He was greatly loved by the people in his area. When he died on December 4, 1848, he was as poor as when he entered the world having given all his earnings to the education of the youth in the parish and the care of the elderly. Joseph Mohr may have died a poor man, but we are all richer for his gift.

Are you counting your blessings today? Do you have gifts that still need to be shared with the world?
---
After sharing that story, I'd like to share a few more Christmas treats with you...
The story of Rudolph the Red-Nosed Reindeer was written by a copy-writer at the Montgomery Ward department store in 1939 as part of a store promotion


The common abbreviation for Christmas to Xmas is derived from the Greek alphabet. X is letter Chi, which is the first letter of Christ's name in the Greek alphabet.


The first printed reference to Christmas trees appeared in Germany in 1531.


In 1836, Alabama was the first state in the US to declare Christmas a legal holiday. Oklahoma has the honor of being the last state to declare Christmas a legal holiday--17 years after it became a national holiday.


In 1856, President Franklin Pierce decorated the first White House Christmas tree.


In 1937, the first postage stamp to commemorate Christmas was issued in Austria.


Some priests in Australia advise you to say "Happy Christmas", not "Merry Christmas", because Merry has connotations of getting drunk--which brings its own problems. One should say "Happy" instead.


Every year since 1947 the people in Oslo have given a Christmas tree to the city of Westminster. The gift is an expression of goodwill and gratitude for Britain's help to Norway in the 1939-1945 war.


The biggest selling Christmas single of all time is Bing Crosby's White Christmas.


The earliest reference to minced pies was 1557.
Peas on Earth!
May your holiday and new year be filled with blessings.