FEATURE ARTICLE: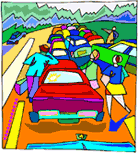 Tom Hanks' "Power of Four" solution

More good stuff:
Who is Marion Owen?

FAQs about PlanTea
Search Marion's articles, tips and recipes

Why grow organic?

News and press releases

Read love letters

How to link to this site

Need a speaker?

How to contact Marion

Visiting Alaska?
Come to Kodiak Island!

Go to home page


Marion's UpBeet Gardener
Newsletter has been
replaced by Marion's blog
which you can find at:
www.marionowen.wordpress.com

In April 2002, the Soroptimist International Northwestern Region Conference in Bellevue, Wash., held a bra decorating contest under the heading of "Soroptimists are our Breast Friends." More than 50 entries were submitted, including the Veggie Bra below. Donations raised during the conference were used to fund Soroptomist service projects such as mammography for under-served women and to promote breast cancer awareness.
The Veggie Bra: A garden-theme contest entry at a Soroptimist International fundraiser. (Photo by Suzanne Ellis, Kodiak, AK)
These photos were take by Suzanne Ellis,
Radiology Department Manager and the registered mammographer at Providence Kodiak Island Medical Center in Kodiak, Alaska. Suzanne also serves as President of Soroptimist International of Kodiak. Their primary service project is the Myrt Meyers Fund which provides mammography and other cancer screenings for local women who fall outside insured services. Additionally, they have an off-island travel fund for women needing diagnostic services.
Check out these other garden-themed bras...

A different look at plant containers
(Photo by Suzanne Ellis, Kodiak, AK)

Support for a healthy environment includes lots of moss!
(Photo by Suzanne Ellis, Kodiak, AK)