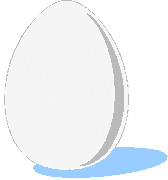 A few years ago, my younger sister Mara phoned from Seattle with a challenge. "It's the first day of spring," she chirped, as if the lift in her voice would ward off yet another drizzly day. "I'm going to balance an egg today. How about you?"
I promised to give it a try, though the idea of standing an egg upright on its end seemed a little far-fetched. Amusing, though. And it would be hard to snub my sister by not trying.
Four years my junior, Mara is a petite, hard-working gal, with to-die-for, brassy white hair. She juggles several jobs at once, including a variety of caregiving
duties for housebound "clients," as she calls them. As serious as her work is, Mara carries a childlike curiosity in everything she does. She's like a kid opening presents on Christmas morning or discovering helium balloons for the first time. And you gotta love her for such enthusiasm.
For example, while she's the one to cheerlead the entire family to go on a whale watching trip in Hawaii or sit through Blue Lagoon for the umpteenth time, she's slow to warm up to certain things. Take email. Leery of computers, she's the family caboose when it comes to embracing technology. We all know she'll get there eventually, but only after she's thoroughly researched laptop models A to Z. (She started the process 4 years ago.) Meanwhile my brother, who lives downstairs in the same apartment complex, hand delivers email messages cc'd to her so she can stay on top of family events.
On the other hand, she can quote, to the penny, what last month's phone bill was, and how it is that all calcium supplements on the market are not created equal.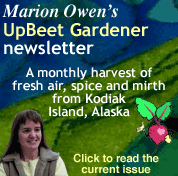 To spend ten minutes with Sis, is to realize she's a blend of serious and silly, like a corporate CEO who carries a set of keys with toys dangling from the ring. Or balancing an egg on the first day of spring.
In the northern hemisphere, the Spring Equinox floats by us Alaskans, usually in the early morning when we're sipping our first cup of coffee. Another name for the equinox is the the Vernal Equinox. It's also known as The Day When You Can Balance an Egg on End.
The equinox occurs when the Earth's position on its axis, as it waltzes around the sun, places the sun directly over the Earth's equator. Day and night are of approximately equal length at 12 hours each. The hours of daylight peak around June 20, which is called the Summer Solstice, called the time when the sun stands still. The sun is again directly over the equator around, September 22, marking the Automnal Equinox.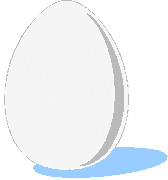 Legend has it that on the equinoxes, when all things are equal, one can balance an egg on its side. Hence, Mara's phone call and the other carrot-dangling question: "Can you do this in Alaska?"
I hung up the phone and went right to the refrigerator. I selected an egg and set it on the counter. Cupping my hand over the top of the egg I positioned my fingers as evenly as I could around the circumference. The egg stubbornly ricocheted and played bumper cars from finger tip to finger tip as I struggled to find the balance point. After about five minutes it suddenly stopped shifting around as if it had had enough fun for the day and stood there, as vertical as a fence post.
I felt proud as a peacock until I read an article about Kevin Kehne, an assistant professor of physics at Delta College in Saginaw, Mich. "Each year, science fans tear their hair out when some media outlet features a story about the dubious physics of seasonal egg-balancing," says Dehne, who frequently lectures his classes on widely believed examples of junk science.
True eggheads know the Earth's alignment on its axis causes many miraculous phenomena. The changing of the season's is one; an upright egg is not. "You can balance an egg on its end any time of the year if you have the patience," adds Kehne.
The article went on to explain that the flawed theory most commonly used to explain the egg-equinox connection is that the Earth and sun have aligned "gravitationally." And somehow the sun's and Earth's gravitational pulls are in a delicate balance that makes eggs more stable.
For some reason, the spring equinox inspires more egg-balancing frenzy that the autumn equinox. Perhaps it's because spring is associated with newness and rebirth, which is represented by many symbols, particularly the egg.
Through time, rituals and invocations have marked the Vernal Equinox. New crops being planted would often be held during the new moon closest to the Equinox (traditionally a good time to plant). According to Ed Hume's Garden Guide, those dates fall on March 23 and 24 (in 2004) which also mark a good time to sow seeds of leaf crops such as lettuce, cabbage and mustard greens. You might also enjoy my article, Planting by the Moon.
Ed Hume's Garden Almanac serves as a handy reference guide for the best dates for sowing seeds, pruning, tending houseplants, transplanting, and fertilizing. Dates are included for watering, composting, harvesting, and even when to mow the lawn to retard growth! There is a wealth of information in the Garden Almanac. It's like knowing "the Force is with you!"
Available on my online store page.
Even after learning that balancing an egg on its end could be accomplished any day of the year, I couldn't resist calling Mara to boast about my achievement.
"I did it!" I blasted into the phone as soon as she answered.
"So, that wasn't so hard, was it?" she teased as only little sisters can. She didn't stop there, though. "One time I balanced three eggs at one time."
My balloon deflated. Yet if she had the patience to balance three eggs, then I wasn't about to pop her bubble with my scientific discovery. Besides, she'll figure that out the first time she does a search on Google!
Happy Equinox, in whatever hemisphere you live!