(And hey, imagine a world without toilet paper!)
How to celebrate International Plant Appreciation Day: April 13.

Hosted by Marion Owen, Alaska gardener and co-author of the bestseller, Chicken Soup for the Gardener's Soul
---
Give live, potted plants as gifts instead of cut flowers
Cut flowers fade away, while a potted plant, especially a flowering one, brings long-lasting pleasure.
Book recommendation: Houseplants for Dummies, by Larry Hodgson
Or, at least do this: Natural Care for Cut Flowers: How to keep fresh cut flowers looking fresh longer
Grow your own fruits and vegetables to give away
There are over 70 million gardeners in the U.S. alone, many of which plant vegetables and harvest more than they can consume. If every gardener plants one extra row of vegetables and donates their surplus to local food banks and soup kitchens, a significant impact can be made on reducing hunger. Food agencies will have access to fresh produce, funds earmarked for produce can be redirected to other needed items and the hungry of America will have more and better food than is presently available. To learn more about Plant a Row for the Hungry, contact the Garden Writers Association
Discover the miracle of starting seedlings...
Growing your own seedlings is one of the most rewarding things you can do. Plus it saves you money and time. When was the last time you tasted a home-grown tomato? Picked peas right off the vine? Shared a bag of fresh salad greens with your neighbor? Nothing is more empowering than being able to say "no" to the grocery store, because you can go outside and pick your own veggies. Click here for easy-to-follow, step-by-step instructions for starting your own seedlings. You'll be glad you did. (So will your family and friends.)
Share seeds, plants, and clippings from your garden
From Unshopping: 25 ways to get and give what you need without money, by Co-op America
Help a friend grow a garden indoors or outdoors
Book recommendation: The Bountiful Container, by Rose Marie Nichols-McGee and Maggie Stuckey
Chase Away the Winter Blues: Grow a simple window garden

Learn, listen, and be inspired through Marion Owen's blog
Listen to interviews with people who make a difference, discover a new rhubarb recipe (eveyone loves rhubarb, righ?), share podcasts (and learn what a podcast is!), and learn about life on Kodiak Island, Alaska, where Marion lives, works, plays and weeds. Click here to visit Acorns (don't worry, it's not like going to the dentist).

Tune in to the award-winning UpBeet Gardener radio show
Did you know that Elvis loved peas and that rose petal ice cream is popular in India? Learn fun, quirky and interesting facts about plants from the UpBeet Gardener radio show. It's free. You can listen online, or radio stations can download the shows from www.upbeetcommunications.com. The 2-minute shows are produced by Marion Owen, of Kodiak, Alaska, master gardener and New York Times best selling author.
Commune with Nature: Go for a walk in the woods, touch a flower...
"Spending time in nature enables you to sense the harmonious interaction of all the elements and forces of life, and gives you a sense of unity with all of life." -- Deepak Chopra, The Seven Spiritual Laws of Success
Learn how to communicate with plants
We share the earth with them, why not converse with them? Click here for gentle, easy instructions.
Set up a plant terrarium
Read stories from Chicken Soup for the Gardener's Soul
Now published in 4 languages! Available through Amazon.com. You can read samples stories here. Share them with a friend who needs a boost.
'Take your Houseplant for a Walk Day' (July 27)
For more information about this, and other fun holidays, go to www.wellcat.com
Rescue an indoor plant from the store
Grow a live Christmas tree
And then transplant it in your garden or donate it to a local park that could use some sprucing (ho ho!) up.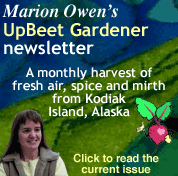 Compost your kitchen scraps
Give your veggie and fruit trimmings a second life, through composting.
Learn how to compost and share this list with your friends: 163 Things You Can Compost.
Plant a tree for every year you've lived on the planet
Teach kids how to garden
What a fun way to learn math, biology, science, responsiblity and repect for all living things.
Learn about the healing power of plants
Visit the Horticultural therapy Association
Learn how to communicate with plants. Step-by-step guidelines for everyone
Book recommendation: Growing Myself, by Judith Handelsman
Web site recommendation: Perelandra: Center for Nature Research
Support your local arboretum and public garden
Houseplants are more than green statues. Please learn how to take care of them!
How to re-pot tired houseplants without the fuss!
Dust Bunnies on your African violets? How to clean fuzzy houseplant
Is Your Christmas Cactus Misbehaving? Does it wilt, shrivel, look pale or refuse to bloom
How to Grow a Pineapple Plant And actually get fruit!
Spider Mites--Ackkk! What they are and how to get rid of them
Aquarium Water and Coffee Grounds: Houseplant food comes in many forms
Add Years to Your Houseplants with these simple cleaning tips
Three Cheers for Houseplants! The unsung heroes in our homes and office spaces
Lemon Tree, Very Pretty...': How to grow a lemon tree indoors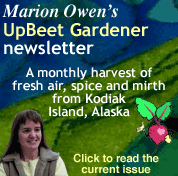 Continue to be inspired!
Marion Owen's monthly UpBeet Gardener e-newsletter links subscribers in over 70 countries. Click here to read the current issue or sign up to receive the email version. (I don't give out email addresses.)
If you have suggestions or comments, I'd love to hear from you.

Cheers and blessings,
Marion Owen
Fearless Weeder marion@ptialaska.net
Who is Marion Owen?
As a best selling author, Marion Owen conducts small business workshops and addresses groups as a keynote speaker. [Click here for her bio.] A former merchant marine officer, Marion is an entrepreneur, having developed and patented PlanTea, the organic fertilizer in tea bags. Review her articles. She lives with her husband, Marty, in Kodiak, Alaska, where they operate Galley Gourmet cruises on their 42-foot yacht.
Contact info:
Marion Owen
PO Box 1694
Kodiak, AK 99615
907-486-5079
marion@ptialaska.net