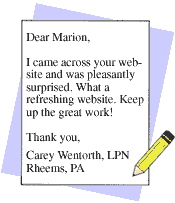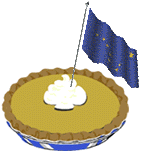 (To jump to the pumpkin pie recipe and its variations, click here)
Late one September, a gardening buddy from Pennsylvania called with the latest news about his pumpkin patch. "I should have some real beauties for Jack o' Lanterns and pies this year," he bubbled. [Pause] "So, how about you?" he asked, "What kind of pumpkins do you grow?"

I laughed and reminded him that this was Kodiak, Alaska. "You know, 58 degrees north latitude, right up there with Iceland and Norway."

Truth is, most Alaskans have difficulty relating to a real-life Linus waiting anxiously in the pumpkin patch for The Great Pumpkin to arrive, probably as much as the idea of wiggling one's toes in warm beach sand would leave most midwesterners scratching their heads.
"This might be the Land of the Midnight Sun," I told him, "but our coastal summers are too chilly. Even zucchini is a stretch. Most of the year, pumpkins are out of sight, out of mind. Until fall rolls around, that is."
"So, what happens in the fall?" he asked.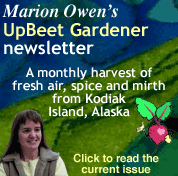 I explained how in the months leading up to The Season of Long Nights and Frozen Soil, pumpkins magically appear in the stores, much like salmon return to the rivers--right on cue.
Then I gave my landlubber friend a lesson on island commerce . . .
In Kodiak, all of our toilet paper, envelopes, milk, dog food, and shampoo is brought in several times a week by container ships and barges. That's it folks. Store shelves are stocked on Thursdays and Sundays. Sometimes you'll go to the store and find enough white vinegar to last you a lifetime. The next week, oops, all gone. It seems everyone's putting up pickles. The Safeway store manager looks at your questioning eyes and offers a weak consolation prize. "We'll be getting some more in next week."
This on again, off again, supply of goods keeps us on our toes, like chipmunks stockpiling acorns for lean times. When bananas look good, buy one bunch for yourself and one for your neighbor. When seed starting mix goes on sale in August, grab it because you won't see another bag of it until late next spring--too late to do much good.
If stashing goods isn't enough, when grocery shopping, I always check the "pull date" stamped on milk cartons and yogurt containers. It's a habit that follows me even when I travel. For example, my father lives near Seattle, a city which, last I checked, was connected to major highways. Nonetheless, at some point during my visits, I'll open the refrigerator in search of say, Dijon mustard. While reaching for the little jar, I pause just long enough to check the date stamped on the milk carton.
So, pumpkins are another commodity that arrive by ship. Since we can't grow them, they have to travel a thousand-plus miles to get here. First, they're trucked from the fields to Tacoma, Washington. Then, they're carefully packed into large metal bins and loaded onto a ship for the journey across the Gulf of Alaska. Voila! Three days later, the cashiers are ringing them up at the cash registers.
Maybe the long wait between annual pumpkin migrations makes their arrival an extra special occasion in our community. Or maybe we just love getting our hands on fresh fruits and vegetables in any way, shape, or form. Here, I'll share another bit of Alaska trivia with you . . .
Right up there with warm, dry socks, fresh produce has always held a special place in the hearts of people who live up North. This might sound strange to those of you in the Big City, but it wasn't until the 1930's that steamships delivered the first apples and oranges to the community of Kodiak. Until then, fruits and vegetables were either dehydrated or sealed in tin cans. Grocery orders were placed once a year and items like green grapes and bananas existed only in magazine ads and dreams.
Ah, change is a sure thing in life. A Walmart popped up and even though oranges are a dime a dozen (figuratively speaking) fresh produce is still very much appreciated, especially in the winter when all the gardens have been put to bed.

View of downtown Kodiak, Alaska
Let me explain. Take a stretch of long winter nights, throw a fresh pumpkin and a cook or two in the kitchen, add some favorite hot beverages, and you've got the perfect setting for some serious recipe creations. As a matter of fact, cooking and potluck dinners are favorite recreational activities up here, and I can give you a list of fabulous cookbooks to prove it.

Yep, Alaskans love to play with their food. Even pumpkin pie.
But not just ANY pumpkin pie. Read on, and you'll discover how one of America's favorite comfort foods just got better and healthier, with a unique Alaskan twist . . .
Most pumpkin pie recipes call for a single crust and a custard filling. Which spells versatility. It's a recipe that it can be adapted to fit any cook's preferences or needs. For example, if you enjoy cooking from scratch, then bring out the measuring cups, rolling pin, flour, and molasses. Pie building is a pleasant way to spend part of a day.
Then again, you might have guests coming over in a couple hours and you don't have time to create a pie from scratch. Yet you'd like to fill your home with the sweet smells of cinnamon and ginger. In that case, bring out the ready-made crusts and canned pumpkin.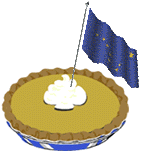 I created this recipe for Northern Lights Pumpkin Pie during a raging winter storm. Outside, horizontal rain and snow pelted the windows. The wind made such a racket I could barely hear the CD playing. There's nothing like nasty weather to inspire a cook. I retreated to the kitchen.
I found my original, time-tested pumpkin pie recipe, handwritten on ruled paper. Stained with molasses rings and butter dots, it was time to give it a thorough makeover. I started by taking out the heavy cream and replacing it with low fat evaporated milk. Honey and molasses replaced the sugar. Eggs, well . . . they stayed. A custard after all, is a custard.
Following the recipe, you'll see options for the crust and the filling. This is where you can get creative. For example, if you've got raspberries or blueberries lurking in your freezer, add them to the filling. And oh yeah, I should tell you about . . .
The Alaskan Twist
I mentioned our long winter nights. Well, we also enjoy long summer days. The Discovery Channel could devote an entire program about how those daylight hours call for serious lifestyle changes. Dark curtains, for example, are popular in the summer. And the kids--they don't know WHAT time it is! Go to bed? Go outside and play? Pitty the poor parents. For me, I can weed until one o'clock in the morning, which for some people ranks up there with ironing shirts and changing tires. (To learn more about living and gardening in Kodiak, Alaska, visit my personal page or visit my "Photo of the Week" page).
Back to winter. It's not such a bad season, really. There's skiing, hot chocolate, building goofy snowmen, and the opportunity to see one of nature's most spectacular displays in the night sky: the Aurora Borealis, also called the northern lights.

The aurora borealis, or northern lights.
For more info about the aurora, earthquakes and volcanic activity in Alaska,
go to the Geophysical Institute of the University of Alaska Fairbanks




On cool, clear evenings, bands of deep reds and florescent greens wave and float across the sky. It's quite a show. Red is considered the most unique color in the Aurora.

One day, while serving pieces of my newest pie creation, I was struck by the similarity of pie and sky. There, between the crust and the filling was a beautiful band of crimson red--just like the northern lights.

From the 49th State of Alaska, here's my gift to you:
2/3 cup sugar (or 1/8 cup molasses, plus 1/4 cup honey)
1-1/2 cup low fat evaporated milk
1-1/2 cup canned or cooked pumpkin
1/2 teaspoon salt (optional)
1/2 teaspoon ground ginger
1/8 teaspoon cloves
1/2 teaspoon nutmeg
1-1/2 teaspoon cinnamon
1/4 cup chopped almonds
1/3 cup raspberry or strawberry jam
1 teaspoon diced candied ginger


Line a pie pan with pie dough. Spread the jam evenly on the crust. Sprinkle with chopped almonds. Set the pan in the refrigerator while you prepare the filling.

Beat eggs, sugar and evaporated milk together. Add pumpkin and spices. Mix thoroughly and pour into the chilled crust. Bake the pie in a 425 degree oven for 15 minutes.

Lower the heat to 350 degrees and cook another 40-60 minutes, or until the filling sets up and the top is golden brown. A wooden toothpick poked in the center should come out clean. Before serving, top the pie with candied ginger. Serve with vanilla yogurt. Yields: 1 yummy pie.

How to cook a pumpkin

Preparing raw pumpkin for use in pies and other recipes is easy to do. For starters, baking is better than steaming, because steaming introduces excess water. Also, small 5 to 6-pound pumpkins are best. A 5-pounder will yield about 3 cups of puree. Slice a pumpkin along the "meridians", marked like the north and south poles by the flower and stem end. Then cut each piece in half along the "equator." Clean out the seeds and stringy pulp. Clean and cook the seeds and carry scraps out to the compost pile. Place chunks skin side up on a pan or cookie sheet sprayed with non-stick coating. Bake at 350 degrees for about an hour, or until tender when poked with a fork. When tender, remove from the oven and cool slightly. Here's a time-saving trick: rather than scraping out the pulp, pinch a blossom or stem end and, using it like a handle, simply peel back the skin. This is easier and less messy than scraping. If I could grow my own pumpkins, I would. Pumpkins are nutritional heroes. They are low in fat, packed with beta-carotene and potassium, and contain lots of iron, riboflavin and vitamin A. (Sneaky Nutrition tips are featured in each issue of my UpBeet Gardener e-newsletter. To read the current issue, click here).

Optional ingredients to add to crust and/or filling

Crust-y options
1/8 cup poppy seeds
1/8 cup finely chopped almonds
1/8 cup sesame seeds
1/4 cup wheat germ
1/4 cup Shredded Wheat (crushed)
Filling options (add to the custard):
1/2 cup grated carrots
1 cup grated or finely sliced tart apples
1/2 cup frozen or fresh blueberries (they tend to "find" their way within the filling)
1/2 cup diced strawberries
1/3 cup chopped fresh cranberries
1/2 cup diced pineapple (Hawaii is due south of Kodiak!)
I invite you to play with this recipe and create your own version of Northern Lights Pumpkin Pie. But don't feel you have to wait for a long winter night!