Did you know there is a report card that rates, not reading, writing and arithmetic skills, but pesticide contamination for 43 fruits and vegetables?
The list is based on an analysis of over 100,000 tests on these foods, conducted from 2000 to 2004 by the U.S. Department of Agriculture and the Food and Drug Administration.
What are pesticides, and what do they do?
Pesticides are used to kill bugs, weeds and other pests, and there is growing consensus in the scientific community that small doses of pesticides and other chemicals can adversely affect people, especially during fetal development and childhood.
For an excellent resource about pesticides, look into the Northwest Coalition for Alternatives to Pesticides, (NCAP). Their mission: to protect people and the environment by advancing healthy solutions to pest problems.
Shoppers would be wise to minimize exposure to pesticides whenever possible, a stand taken by Washington, DC-based The Environmental Working Group (EWG), which has compiled the data into a handy, wallet-sized guide called The Shopper's Guide to Pesticides in Produce. You can download a copy from the EWG's Food News website. The site also provides the full list of 43 Fruits and Veggies.
Meanwhile, the wallet guide lists the 12 fruits and vegetables with the highest and lowest levels of pesticides.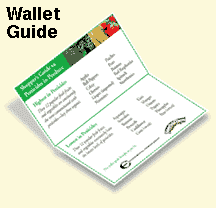 The MOST contaminated produce includes:
Apples
Bell Pepper
Celery
Cherries
Imported Grapes
Nectarines
Peaches
Pears
Potatoes
Red Raspberries
Spinach
Strawberries
The LEAST contaminated fruits and veggies include:
Asparagus
Avocados
Bananas
Broccoli
Cauliflower
Sweet corn
Kiwis
Mangos
Onions
Papaya
Pineapple
Sweet peas
Fruits and vegetables are essential to a healthy diet, so you don't want to cut back on them. But you can cut back on pesticides. The best option is to choose organic whenever possible. If organic produce is not available, then select the least contaminated foods. Finally, though it only takes care of the outside and not what's on the inside, be sure to wash all produce.
Also of interest...
Would you like to learn how to decipher those little labels on produce? Visit my article on Genetically Modified Foods.
Thanks for visiting. Cheers,