So, maybe you've decided to treat yourself better. Or maybe you've come to the conclusion that your family ought to eat together more regularly, and that fast food several times a week is simply bad for both wallet and waistline.
Sound too lofty? Too hard to implement with your busy schedule?
Nah.
Let's start with junk, or fast, food and go from there. One of the best ways to avoid junk food is to keep the refrigerator and pantry stocked with good stuff, that is, whole foods like fruits and vegetables with good keeping power. Apples, carrots, oranges, celery...That way you'll have a good foundation for snacks and making soups, casseroles and many other dishes that amount to respectable meals.
One vegetable with good keeping power, happens to be one of America's favorite comfort foods, the potato. Remember the potato, that simple, earthy "pomme de terre" before it's transformed into chips and French fries? Well, potatoes have come a long way. Actually, we've come a long way by embracing the hundreds, perhaps thousands of shapes, colors and uses of potatoes. The bottom line: Mashed, baked, or souped, potatoes represent warmth, simplicity and our grandparents love.
Angela Taber, of Olsen Farms in Colville, Washington specializes in gourmet potatoes. I met up with Angela at Seattle's Pike Place Market. With short dark hair, a quick smile and a dressed for the cool, fall weather, she set me straight on a few things, including "spud nuts."
LISTEN UP! Now you can hear the audio version of this article and my interview with Angela at the bustling Pike Place Market (which I produced as one of my 3-minute UpBeet Gardener radio shows), by clicking here. By the way, tell your local radio station that they can download my UpBeet Gardener show for free from: www.upbeetcommunications.com.

Looking over the colorful display of potatoes, I couldn't help but ask, "What are some of the odd or unique questions people ask you about potatoes?"
"Probably one of the first things is how the colored potatoes get colored. People wonder if we actually inject them with dyes. I have to convince them that the purple and red potatoes naturally come that way."
"And what would be your most popular variety?"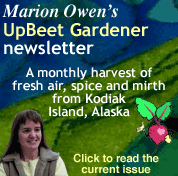 "Well usually people are looking for something different, so all the blues, all the reds--the Viking purples, most of those are pretty popular."
After taking a big hit in popularity during the low-carb/high-protein diet craze, potatoes are now making a strong comeback onto dinner plates. So I wondered how one would sells potatoes to the public. "What, Angela, is so great about a potato?"
"A potato is one of the vegetables that if you had to choose one that you could actually sustain on, you could live on it. Potatoes provide vitamin C, they are high in potassium, iron, and fiber, and your colored potatoes are very high in antioxidants. And they taste good!
"What's more, a potato is a great food. It stores well, you can use it in all three meals, they're fun to grow, especially for kids.
Passionate about her potatoes, Angela flashed her gloved hands and nodded her head as she talked. "You can cook them in a variety of ways… you're pretty much not limited with the potato, you can take it as far as you want, as cooking processes go, and with all the colors, it's really fun.
"We also sell spud nuts…"
"Spud nuts?"

Bags of "spud nuts" on display at Pike Place Market in Seattle
Angela pointed to a display of clear plastic bags filled with what looked like earth-toned golf balls. "Spud nuts are small round potatoes in all colors. They're great on the barbecue."
I thanked Angela, bought a bag of spud nuts for my Dad, and headed north to Whidbey Island, where he was preparing dinner. I was hoping his past experience on the Atkins diet hadn't permanently ruined his taste buds for potatoes.
HERBED SPUD NUTS AND CARROTS
3 tablespoons butter
3 tablespoons olive oil
4 cups spud nuts, or 8 potatoes, diced into 1-inch pieces
2 tablespoons thyme or rosemary
6 carrots, cut into 1/2 to 3/4 inch slices
2 or 3 garlic cloves, peeled
Salt and pepper
Melt butter with olive oil in small saucepan over medium-low heat. Combine remaining ingredients in a large bowl. Drizzle with butter mixture and sprinkle generously with salt and pepper and toss to coat. Empty vegetables out onto baking pan(s) and roast them at 400 degrees (F) for about 30-45 minutes, or until just tender. The herbed butter that is cooked into the vegetable smells and tastes delicious.
How to stay away from junk food
To stay away from junk food means you need to be a savvy shopper. Scrutinize the prepackaged stuff and read the labels. Also worth avoiding, nutrition experts say, is high-fructose corn syrup, which has been implicated in the American obesity epidemic. Consuming the concentrated and inexpensive substitute for regular sugar can be as bad for what you're not eating as for what you are.
Another effective way to ensure that you always have a healthy meal on hand at home is to buy in bulk and cook several meals at once. Freeze the extras. It's just like having money and time in the bank.
However you slice it, having dinner with your loved ones is a good policy. A study published last year by Columbia University's National Center for Addiction and Substance Abuse found that kids who eat dinner with their families most nights are more likely to do well in school, while teens who seldom do so are more likely to have tried cigarettes and experimented with alcohol.
And the American Dietetic Association (ADA) last April described the family meal as "a potential pubic health measure for improving dietary quality, reducing overweight and improving education and social outcomes."
The traditional home-cooked dinner also has been linked to a reduction in soft drink consumption and higher intake of such healthful things as produce and whole grains and foods that are rich in fiber, calcium and other vital nutrients.
Finally, sitting down at the table at night has value as familial glue.
Even for families that are busy with kid activities, it's really important to have dinner together at home. Kids not only enjoy that, it's kind of a decompression time for them. They can talk about their day, vent, practice the art of conversation and sort of unwind. Can you relate to that?

More articles of interest...
Thanks for visiting! I hope this article was helpful. Cheers,