FEATURE ARTICLE: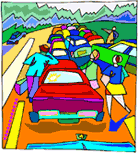 Tom Hanks' "Power of Four" solution

More good stuff:
Who is Marion Owen?

FAQs about PlanTea
Search Marion's articles, tips and recipes

Why grow organic?

News and press releases

Read love letters

How to link to this site

Need a speaker?

How to contact Marion

Visiting Alaska?
Come to Kodiak Island!

Go to home page


Marion's UpBeet Gardener
Newsletter has been
replaced by Marion's blog
which you can find at:
www.marionowen.wordpress.com

Are you new to gardening? Or maybe you just moved north, or want to grow something besides roses. If so, this article's for you.
Later, as you set about trying your hand at some of the following suggestions, relax and know that making mistakes in the garden is how a gardener learns. To put it another way, "There is no such thing as a garden mistake, it's just a compost opportunity," says Marianne Binetti, a Seattle Guru of Dirt.
Though it's been since 1987 when I grew my first head of lettuce in Kodiak, Alaska, I consider myself a beginner. I feel I've barely scratched the surface of all there is to know about bugs, seeds, weather and Nature's laws. If gardening is a work in progress, then I'm the perpetual student.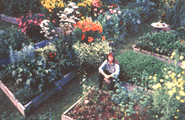 One of Marion Owen's early organic gardens in Kodiak, Alaska
Back to lettuce. It wasn't the seedlings' fault. No, lettuce is more durable than that. I was so intrigued with how lettuce looked outside the store's produce department, that I completely forgot to harvest it. When I finally got around to picking a few leaves, not only had the plants bolted to 3-foot towers, they tasted so bitter we couldn't eat them.
Since that first year, I've make an annual list of what I grow in the garden. It shows what plants flop and which ones flourish. It also reminds me that there are a lot of easy-grow vegetables, flowers and herbs that are ideal for the beginning gardener. What follows is a collection of top performers. (For tips on starting plants from seed, visit my Seeding is Believing article. If you buy transplants, read about how to choose a plant). I've posted seed and plant sources at the end.

Studies show that organically grown vegetables not only
taste better, they are better for you!
EASY-GROW VEGETABLES
Carrots--Sow in early spring. Be patient--they germinate in 14 to 21 days. Keep soil moist.
Snap peas--A vertical climber, snap peas are ideal for small gardens and containers. Flowers and tips are also edible
Lettuce--Any and all varieties. Mix seeds/transplants together for a gourmet salad blend.
Kale--Healthy, tasty, good in hot and cold dishes. Frost hardy.
Potatoes--A must-have in northern gardens. Try peanut, blue varieties and Yukon Gold. Have you ever tasted potato fudge?!
Onion (green and bulb)--The hardiest vegetable on Earth. TIP: Grow "long day" varieties for long days (higher latitudes); "short day" ones, for lower latitudes. My favorite onion for storing and flavor: Buffalo, from Johnny's Selected Seeds.
Cabbage--Early and late varieties. Keep evenly moist to prevent splitting.
Spinach--Sow a new crop every 2 weeks for continued harvest
Broccoli--These tasty and versatile "little trees" pack a big nutritional punch.
Mustard greens--Red Giant, Green Wave, kale (above).
Oriental greens--All varieties thrive in northern gardens. Nutritional heroes.
Broad (fava) beans--The northern lima bean. Vertical, hardy, neat-looking plants.
Beans (runner)--Some varieties sport beautiful white, pink or orange blossoms.
Beets--Yes, yes, yes. All varieties do well in cool soil.
Radish--Kids love them. So do crows (they toss them around the garden like beach balls).
Brussels sprouts--The older varieties often do best.
Leeks--Worth the wait; they're sweetened by frost.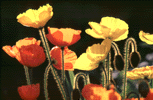 Iceland poppies photo by Marion Owen. (You can take pictures like this!
Visit my How to Photograph Flowers article.)
EASY-GROW FLOWERS
Annuals--Pansies, calendula, nasturtium, sweet peas, baby blue eyes, dianthus, lunaria, Iceland poppy, silene...
Biennials--Foxglove, Sweet William...
Perennials--Columbine, Shasta daisy, delphinium, bee balm (monarda), Jacob's ladder, bleeding heart, autumn joy, geranium, forget-me-not, primrose, meconopsis poppy, Oriental poppy
Bulbs and other early perennials--Tulips, primrose, daffodils, crocus, snowdrops, lily
EASY-GROW HERBS
Chives--Stems and flowers are edible. Divide plants every 3 to 4 years.
Mint--Keep contained and well-mulched. Grow in shade or partial shade. Adapts well to life in an indoor herb garden.
Lemon balm--Member of mint family. Good in baths, iced tea.
Arugula (garden rocket)--Sesame-nutty flavor that adds zest to salads.
Oregano--Hardy, pretty plant. Dries well.
Parsley (flat and curly leaf)--Another must-have, vitamin-rich.
Sage--Blue-green leaves. Fragrant perennial; prefers well-draining soil.
Chamomile--For herbal tea, grow the German, not Roman variety.
Thyme--Plants can tire and may need to be replaced after several years.
Dill--You need this for everything from pickles to seafood dishes.
Fennel--A hint of licorice; cook and use the bulb like onions; tops for herbs.
Garlic--Plant cloves in late summer; mulch and protect over winter for a summer harvest.
OTHER EASY-GROW VARIETIES
Fruiting shrubs are ideal for edible landscaping. Try raspberries, hardy kiwis, rhubarb, currants (red, black and white), gooseberries, and crabapples. For a list of helpful organic gardening tips, visit my collection of articles. If you have a greenhouse, go ahead and try tomatoes, cucumbers, basil, and squash.
SEED AND PLANT SOURCES
Johnny's Selected Seeds
Renee's Garden
Territorial Seeds
Vesey's Seeds
Nichol's Garden Nursery--Herbs, seeds & goods for the gardener-cook
Park's Seeds
Thompson & Morgan
Raintree Nursery--Unusual fruiting shrubs and trees
Charley's Greenhouse and Garden--Greenhouse, seed-starting and gardening supplies
In spite of my laughable first attempts, lettuce remains an annual favorite, along with new additions such as asparagus and artichokes. Though finicky, these can be grown in cool climates. Experience is your best teacher. Like any skill, to learn how to garden, you first must want to garden. "'Green fingers'," says Russell Page, "are a fact, and a mystery only to the unpractised. But green fingers are the extensions of a verdant heart."

Happy growing!
P.S. When you're finished with your garden catalogs, there are a variety of ways to recycle them!