On his second voyage in 1493, Columbus found the inhabitants of Guadeloupe eating very odd-looking fruits...
This discovery was noted by Richard W. Langer, author of the wonderfully hilarious book called The After Dinner Gardening Book. Columbus, he says, saw what reminded him of large pine cones. And that's how pineapples got their name.
Only 50 years later, Spanish and Protuguese saling ships had carried pineapples all over the world. "What permitted this unusually rapid spread of the pineapple, even by slow boat to China," says Langer, "was what also makes it an ideal after-dinner crop. For one thing, the vegetative parts of the plant are very resistant to drying out and wilting. They will withstand months of storage in a ship's hold or your grocer's cellar.
"Secondly, all it takes to start a pineapple plant is the crown, or top, of the fruit."
So let's grow one.
First, cut the leafy top from a fresh pineapple, taking about an inch of fruit with it. Then, let it heal over for a day or two before planting.
Next, bury the fruit slice in an 8-inch pot filled with general purpose potting soil and water it thoroughly. Move your pineapple plant outside in the summer, and in the winter, keep it indoors near a sunny window.
Keep the soil moist but not soggy, and spray the crown every few months with a weak, kelp-based organic fertilizer, such as PlanTea. And try to keep the temperatures above 65 degrees. Otherwise the pineapple will think it's time to hibernate and stop growing.
After a couple years (yes, years, but it's well worth the wait), your plant should have lots of healthy foliage and be ready to produce fruit. At this point, you can step in and help Mother Nature. Put the plant in a large plastic bag with an apple, then move it to a shady spot. The apple gives off ethylene gas that will encourage the plant to bloom and set fruit.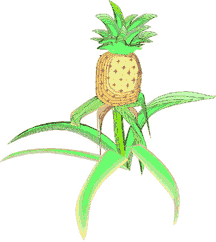 After four days, remove the plant from the bag and set it back in the sun. Flowers should appear in a few months, followed by a small fruit. It will take the fruit about six months to mature.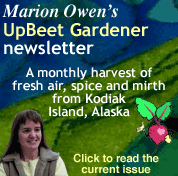 Meanwhile, while waiting for your pineapple plantation to develope, you can enjoy the show, because even without its fruit, Langer says the pineapple is an interesting and decorative plant.
Have fun!
Learn how to grow lemon trees indoors.
Learn how to grow an indoor mango tree (they are beautiful!)
Find more indoor and outdoor, organic gardening tips.